The World Renowned Animal Film Festival!

From all around the world, animals, people and films are converging at The Animal Film Festival! Film makers from England are flying in! Dutch Parliament member and founder of the world's 1st Party for Animals, Marianne Thiemme, makes a big screen appearance with her feature film. The British Invasion brings the positively pawsome Pet Goat series! World renowned activists and those who use whimsy and charm to present the messages will all be here! And Super Smiley is their Official Ambassador of Kindness and will be starring in a film! Meet Film Festival Director with all the scoop, Shelley Frost, on this most amazing Super Smiley Adventure!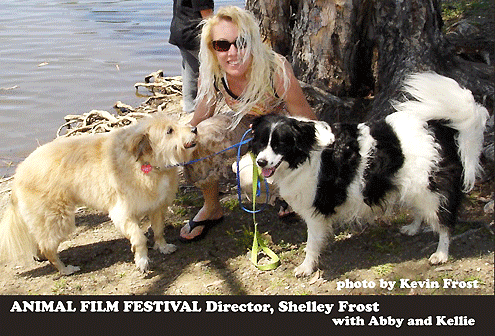 Director, Animal Film Festival for Center for Animal Protection & Education
During the past years, have enjoyed success as a video producer (documentary producer, school performance videos, promo videos for non-profits), children's drama teacher and as an author interacting with the media as a guest on local, national and international television and radio talk shows and print journalists.

Appeared as a guest on the Oprah Show, Dateline NBC, was profiled in People Magazine.

Will continue to produce documentaries and videos for non-profits and schools. Currently writing books and articles on topics such as dogs, movie making for kids, etc.
As program manager for the non-profit Center for Animal Protection &Education (CAPE) I write all media materials including ealerts, newsletters, appeal letters, grant writing, press releases; keep the Facebook page updated and growing; assist the Executive Director in all capacities; handle and write all correspondance including thank you letters; plan and execute all events including speakers, and CAPE's annual Animal Eyes Film Festival; update the website; use media to communicate the needs of the animals rescued by CAPE.